My drawings (always organized in cycles), also if different for themes they are also similar.
Their elements (mountains, clouds, creatures) repeat themselves to the infinite with little variations, like in the Far Eastern art. My works do not evolve, but run through a difficult path of inner search. The sense of living, the mistery of death.... with a paper sheet.... with some pencils....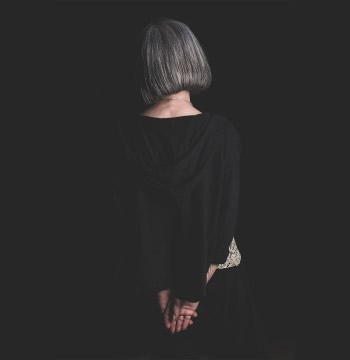 Luisa Rota Sperti's web site contains her wide and complex art production. Since 2015, the news about her events and exhibitions are posted on her Facebook page. The annual upgrade and summary of last year events will be published at the beginning of each new year on this website.





Twinning Cammina(r)te in the Grigne - Cammina(r)te at Mount Pelmo

Cammina(r)te Card

Preview 2018:
-> An interesting project with "Dolomiti Art Rock" Pdf
-> Presentation: the updated version of the book about Sasso Cavallo
-> Innovation about "Cammina(r)te" Pdf

Work in progress:
-> "Lettere a Nora" by Adelio Alqua





ART ATTENDANCE, BOOKS, CALENDARS, CATALOGUES BY LUISA ROTA SPERTI SINCE 2000
I LIBRI
- Dentro la montagna
Paola Favero Cierrre Edizioni
- Il mistero dei suoni scomparsi
Paola Favero Cierrre Edizioni
- La stella del cardo e il covone di
fieno con testo di Carlo Caccia
Montura Editing

- Quaderno di Campo
con testo di Paola Favero
Montura Editing
- Diamir, la montagna delle fate
Paola Favero DBS Edizioni
I CALENDARI
- Mappa/Mondo
Il calendario perpetuo
- Camminarte al Monte Pelmo
- Calendario della Montagna
LE "BOZZE D'AUTORE" per
Carte d'Arte di Ferruccio Ferrario
- La stella del cardo e
il covone di fieno
(50 copie con disegno originale)
- Stella Stellina
- Erodiade di Gustave Flaubert
(tradotto "per gioco" da Adelio
Alquà)
- Sogni nel vento
- La Schola dal Bonduhãc (Vajont)
- Serinella: ecofiaba nel Lario
- Viola: ecofiaba nelle Grigne
- Sass Cavall (Monografia di una piccola montagna)
- Serpedrago e Sass Cavall
- Sasso Cavallo, un'altra faccia delle Grigne
I CATALOGHI DISPONIBILI
- My land Tibet
- Luisa Rota Sperti - Opere
Galleria Bellinzona
- Pino, la morte e il Pelmo
- Dalle cattedrali della terra ai
sentieri del cielo (ristampa)
- Le Montagne grandi
SITO WEB
www.luisarotasperti.com
I FILMATI
- Tre cavalli e un pezzo di luna
- My Land Tibet
- Suggestioni
Dall'anno 2009 è socio
accedemico del Gism - Gruppo
Italiano Scrittori di Montagna

PRESENZE ARTISTICHE DI LUISA ROTA SPERTI DAL 2000
2000
Antologica - Assessorato alla Cultura del Comune di Lecco
2000
Personale - Galleria Bellinzona - Milano
2003
"Le Montagne Incantate" - Castel Roncolo - Bolzano
2004


Celebrazioni per il trentennale della salita dei Ragni al Cerro Torre - Quadri e Installazioni - Lecco
2005


"Oltre le Vette". Metafore, uomini, luoghi della montagna Belluno
2005


"Mappa/Mondo il calendario perpetuo" - Immagimondo Festival di viaggi, luoghi e culture - Lecco
2006



Celebrazioni dei 40 anni della scuola di alpinismo "Attilio Piacco"- "Dalle Cattedrali della Terra ai sentieri del Cielo" - Valmadrera
2006


Centenario della nascita di Dino Buzzati - Personale al Messner Mountain Museum - Monte Rite - Belluno
2006


"Camminarte al Monte Pelmo" - Esposizione perpetua in undici rifugi – Val Fiorentina – Val Zoldana – Ampezzano
2008


56° Trento Film Festival – Antologica Dolomitica – Quadri e
sculture
2008
"My Land Tibet" - Immagimondo – Lecco
2009


Club Alpino Italiano – Ottagono Spaziomontagna
Quadri, Sculture e Installazioni – Milano
2009
"Hoga Zait" - Festival Cimbro – Altipiano di Asiago
2009
"Guardare in alto" - Collettiva – Lecco
2010


"Tra le rocce e il cielo" - Festival della Montagna
Riva di Vallarsa (TN) – Quadri e Installazioni
2010


"Il Mistero dei suoni scomparsi" - Film Festival della Lessinia
Bosco Chiesanuova (VR) – Illustrazioni
2010
"Omaggio alla leggenda" - Giardino Buzzati – Belluno
2010


Fiera Internazionale dell'Outdoor – Friedrichshafen Installazioni per Montura
2011


59° Trento Film Festival – Montagnalibri
Quadri e Installazioni
2011


"Ai confini del Cielo" - l'opera completa - Museo Vittorino Cazzetta – Selva di Cadore (BL)
2012
"Sass Cavall" - Monti Sorgenti - Lecco
2012


"Dentro la Montagna" - Alpstation – Bassano del Grappa (VI)
Illustrazioni
2012


Messner Mountain Museum - Castel Firmiano (BZ)
Quattro tavole in esposizione permanente
2012



"Montagne: L'epica e l'incanto" - Cai Lecco – Sistema Museale
Urbano - Serie di esposizioni: Lecco e Mandello del Lario. Quadri, Libri, Libretti, Video, Installazioni
2013


"Il Gioco dell'Illustrare" - Cai Valmadrera x il 150 di fondazione del CAI - Illustrazioni, Installazioni e Sculture
2013



"Leggende dei Monti Pallidi" - "Il Segreto del Bosco Vecchio"
Biblioteca del Bosco – Riserva di Somadida – Auronzo di Cadore (BL) - Installazioni
2013

La Magnifica Terra – Festival della cultura di Montagna Bormio
2014
Personale Palamonti (Bergamo)
2014
Pittura Uno XXX 1984/2014 - Lecco
2014
M.M.M. Castel Firmiano - Ritratto Reinhold Messner - Bolzano
2015
Pittura Uno 1984 / 2015 - Torre Viscontea Lecco
2015


Mostra Alpinistica alla "Biblioteca del bosco" nella Riserva Biogenetica Orientata di Somadida.
2016


"L' Anima delle Montagne" - Riserva del Cansiglio - (Vittorio Veneto) - Quadri ed installazioni
2016


Rifugio Città di Fiume: "Camminarte al Monte Pelmo 2016" - Evento: Il Regno dei Fanes - Quadri ed installazioni
2016


Rifugio Campogrosso - Recoaro (VI) - "Diamir - La Montagna delle fate" - Illustrazioni - Quadri - Installazioni
2016


Antologica - Presentazione del ciclo Le Montagne Grandi con catalogo - Palazzo Agostinelli - Bassano del Grappa
2017
"Le Montagne Grandi" Messner Mountain Museum Monte Rite
2017
Installazioni Sogni nel vento - Parco del Sojo
2017
"Cammina(r)te nelle Grigne" - 5 quadri in 5 rifugi







MMM - Messner Mountain Museum Firmian - Presentation (pdf 2,11 mb)

Four works from the cycle Kailãs: Viaggiatori incantati e pellegrini (Kailãs: Enchanted Travellers and Pilgrims) have been chosen to be exposed at the Messner Mountain Museum Firmian, in Bozen. In one of the pathways in the Western Tower (giving some space to the key mountains: the "7 summits" and the Eight-Thousanders), have been also integrated the sacred mountains. Details


EXHIBITION



During the exhibition dedicated to Reinhold Messner 70th's celebrations, at the Castel Firmiano museum is visible the portrait "Uomo Montagna", a dream fusion of R.Messner with the Kailãs. This work was dedicated, when it was created, to the Alpinist's respect toward this sacred peak. Details
www.messner-mountain-museum.it


EXHIBITION



From 1 June to 30 September 2017.

The twelve paintings from the cycle "Le Montagne grandi. Vette e Pareti: i Respinti. Dei, Guerrieri e Poeti: i Vinti..." (The Great Mountains. Peaks and walls: the Rejected. Gods, Warriors & Poets: Defeated...) are exhibited, by invitation, at the Museo nelle Nuvole on mount Rite, Messner Mountain Museum Dolomites. . Details




The complete list of Luisa's works and exhibitions from the beginnings ('70) until today ...






GALLERIA MARELIA


Via Torretta, 4 - 24125 Bergamo

Luisa is happy to announce that her reference Art Gallery is the Galleria Marelia in Bergamo.
The very kind Gallery owner, Paola Silvia, invites to visit her own website: www.galleriamarelia.it


GALLERIA BELLINZONA


Via Volta, 10 - Milano

Luisa Rota Sperti's works are available at Galleria Bellinzona
Phone

+39 02 6598631

- Fax

+39 02 6598928


www.galleriabellinzona.com









Luisa Rota Sperti is an Italian artist born in Lecco. She lives and draws in Somana, a hamlet of Mandello del Lario, at the feet of the Grigne mountains. Her main working tool is the pencil and her works are structured into different cycles, rich of inner and outer references to history, the mighty ancient sagas and mythology.
Her main theme is the mountain: the physical ascent, the spiritual ascent. continues...